In our fast changing and competitive world, managers need to move from their old ways of leadership to a more agile and collaborative approach, encouraging teamwork, positive feedback and mentoring. A new management style that appeals to Millennials.
Today's successful managers use agile goal management to improve employee alignment, to boost their engagement, and to achieve better business performance within their company and across the value chain.
This white paper outlines three simple steps to modernise your leadership, increase agility and improve your business faster.
It's time to lead by alignment.
Step 1: Align vision, strategy and objectives
Alignment speeds up organisations and delivers value
When an organisation's strategy, goals and meaningful purpose reinforce each other, we can talk of real alignment.
Achieving this alignment gives any organisation a major competitive advantage, trusting its people to move fast, in the right direction. [1]
"Bringing meaningful purpose, practical strategies, and goals together makes an organisation's aspirations more credible - and more likely to be achieved." T. Nautin. [1:1]
Think of it this way: with a clear understanding of strategic priorities, managers and employees will accelerate their efforts in the right direction and work together to get their organisation closer to its strategic objectives.
"Your role as a leader is to create a vision and strategy that are clear enough for employees to take actions, every day, to reach these goals. Create alignment first at the senior most level. Dedicate the needed time – maybe a full day – to bringing clarity and alignment to your 2-4 most important strategic priorities." says Jimmy Leppert. [2]
Furthermore, according to A. Rappaport, J.L. Kellogg Graduate School of Management [3], aligning the interests of management with those of shareholders creates value: it prevents executives from focussing only on short term earnings - for example quarterly profits - and encourages them to deliver superior long-term returns.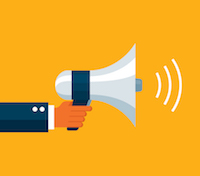 Communicating organisation, mission and strategic objectives
When CEOs talk strategy, less than 30% of the company gets it. [2:1]
Looking from the top down, CEOs still find it difficult to communicate their vision - why the business exists and why it's worth investing in for the future - and to get employees to understand the company strategy. According to research by Timothy Devinney and colleagues at the University of Technology in Sydney within 20 high-performing Australian corporations, 7 out of 10 of all employees were unknowingly misaligned with the company's strategic direction. [4]
The perception that their contribution to the greater picture truly matters is one of the five conditions for employee engagement, according to research from the Society of Human Resources Management:
"Recognising how assignments support the organisation's business goals can help increase employee job satisfaction. Management may frequently assume that employees already know the significance and relevance of their assignments. However, clearly explaining and reiterating how employees' work is valued can mitigate these problems." [5]
Lead employee engagement through goal management
64% of organisations don't have a standardised process for cascading goals enterprise-wide. [6]
Once strategic objectives have been set, C-Execs need to standardise the process for cascading goals throughout the enterprise:
Communicate strategic objectives to all managers. Use a digital solution to complement face-to-face meetings.
Break down objectives into goals by business unit or team not forgetting to include value chain partners. A digital solution can help medium to large companies with dispersed and mobile workers.
Assign individual goals to middle and front-line managers.
Connect managers' goals with the HR performance review process.
Step 2: Embrace agile goal management
Infuse agile management throughout your organisation
In this fast changing and competitive world, most established companies see their products or services considered as a commodity, with disruptive competitors emerging from outside their industry. To counter these threats, CEOs need to become 'adaptive leaders' and adopt 'organisational agility' [7].
Agile organisations can anticipate change, react swiftly to the customers' changing expectations and turbulent market conditions, adopt innovative technologies and execute more efficiently.
"Agile companies exhibit superior business value relative to their industry groups." Linda Holbeche, Adjunct Professor, Imperial College [7:1].
Agile businesses have 29% higher earnings per share, with 20% higher net margin, 30% higher return on assets and 8% higher revenue growth than comparable businesses. [8]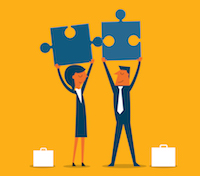 Towards a new management approach
The conventional management approach is no longer working: currently strategies are designed for the next 12 to 18 months and implemented through a top-down hierarchical management approach, while team and individual goals are set for 12 months.
According to John P. Kotter, traditional hierarchies and managerial processes can still do well, but can't cope with rapid changes because they are inherently risk-averse and resistant to change. He continues by suggesting to build:
"A second operating system, devoted to the design and implementation of strategy, that uses an agile, network like structure and a very different set of processes. The new operating system continually assesses the business, the industry, and the organization, and reacts with greater agility, speed, and creativity than the existing one. It complements rather than overburdens the traditional hierarchy." [9]
Once management has created a sense of urgency around a single big opportunity and developed a compelling strategic vision for change, he proposes to:
Set up a network of change agents, which he calls the Guiding Coalition, made up of volunteers from throughout the organisation.
Identify five strategic initiatives that this coalition deems critical to achieving the vision, that they want very much to work on and that they will promote within the organisation.
Identify and deliver short-term wins, focusing on tackling problems, removing barriers and redesigning processes.
Continue to learn from experience, carry through on strategic initiatives and create new ones, to adapt to shifting business environments, and thus to enhance the organisation's competitive positions.
Agile management versus organisational alignment
Organisations are encouraging employees to be more agile, autonomous and collaborative. While adapting to rapid changes, managers and employees can often become misaligned with the corporate objectives.
When adopting an agile methodology, managers may lose sight of the need for peer to peer and cross departmental alignment, not to mention the necessary alignment with partners through the value chain.
In addition, while managers may take the necessary steps to align their goals with their stakeholders, employees may not be following the same path and may even be pursuing conflicting objectives.
Percentage of employees who revise their goals during the year [6:1]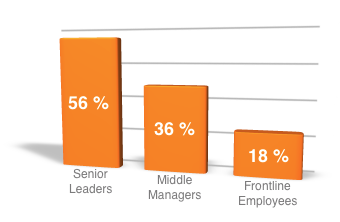 As the graph shows, middle managers and front-line employees' goals are less likely to be revised through the year compared to those of senior leaders.
Managers should maintain focus on alignment through regular check-ins. A digital solution can help medium to large companies to improve alignment through sharing corporate objectives, and team and individual goals.
Switching to an agile, more autonomous and collaborative approach for goal management
Leaders are exploring new ways of managing goals:
Improving information processing and sharing;
Shifting progressively away from cascading objectives;
Encouraging teamwork in goal setting and collaboration.
We suggest the following implementation approach:
Encourage bottom-up employee goal setting, best practice suggests that half of the goals should be proposed by the staff.
Adopt shorter term and project-based goals. Short term may mean a three-month period for an established organisation, a six-week time scale for a team working with agile methodology, or as short as two weeks for a startup.
Factor experimentation into the goal setting. Encourage learning from experience. Accept failure, cancel goals, change your delivery approach and so on. And celebrate success, replicating what works well across teams.
Hold regular check-ins to discuss team goals progress, to avoid skidding and to adjust target and resources if the context has changed, for example due to feedback from customers or threat emergence.
Provide regular feedback and mentoring. Positive feedback is important particularly for Millennials.
Share team goals and progress in real time across the organisation to encourage motivation and increase your success rate.
A digital solution can support this new way of organising team activities and encouraging experimentation, enabling companies to define and manage goals in a more agile way, and to dynamically monitor progress.
The Millennials challenge
50% of your workforce will be Millennials by 2020. [10]
85% of Millennials are mobile. [11]
Millennials (born between 1980 and 2000) are shaping the future of your business. [10:1]
Managers are discovering their lifestyle, needs and aspirations: Millennials want work that is personally fulfilling, to make new friends, learn new skills and connect to a larger purpose. [12] They need mentoring [13] and constant feedback, and they are in a hurry for success. [10:2]
To attract, retain and motivate Millennials, individual team performance assessment, HR systems and management tools all need modernisation, while also avoiding intergenerational conflicts.
Mobility is an area of focus, because most Millennials are mobile and own a smartphone with lifestyle consumer apps and games. [11:1]
Step 3: Pilot employees' goals to drive business performance
Crowdsource your business performance delivery
This step three will address the question of measuring progress through metrics, and how those should connect to the company key performance indicators (KPIs) to ensure that employees' goals effectively contribute towards your business performance.
Only 10% of the metrics are used to inform decision-making (Bernard Marr). [14]
Bernard Marr defines KPIs as a way to:
"measure how companies, business units, projects or individual are performing compared to their strategic goals and objectives …/…. KPIs are the vital navigation tools that managers use to understand if the business is on a successful voyage." [14:1]
In this paper, we are discussing operational reporting, such as sales or production metrics, not financial, compliance and regulatory reporting.
From complex reporting to a collaborative approach
The traditional way of cascading objectives from the top of the company makes business performance monitoring cumbersome: it requires a bottom up reporting process to monitor performance effectively. This process is often complex and expensive to maintain, and lacks flexibility. Besides, with old style reporting, managers are driving the business looking in the 'rearview mirror', which is not the best way to anticipate the near future and prevent skidding.
We are proposing a new approach: 'crowdsource' your business performance delivery, by engaging your employees to contribute to business performance through three initiatives.
Connect goal metrics with KPIs
We previously discussed the necessity to connect goals with corporate objectives and to measure progress through metrics. The question is, what is a good metric to ensure that a goal is helping the business to progress in the right direction.
We recommend that each goal metric:
is an actionable metric connected with a business KPI;
can be easily reported and re-forecasted by the goal owner;
metric targets should be sufficiently ambitious to stretch enough goal owners. A goal target completed at 60 to 70% on average is acceptable compared to a budgetary target which has to be achieved or exceeded.
Sales department case
Within the context of a corporate objective to grow profitability, the sales department should be encouraged to increase existing contract gross margin and up-sales, and not just incentivised on the value of contracts signed with new customers, as their acquisition is more expensive and usually takes longer.
Revenue and gross margin ratio targets at departmental level should be significantly higher than the budget at company level.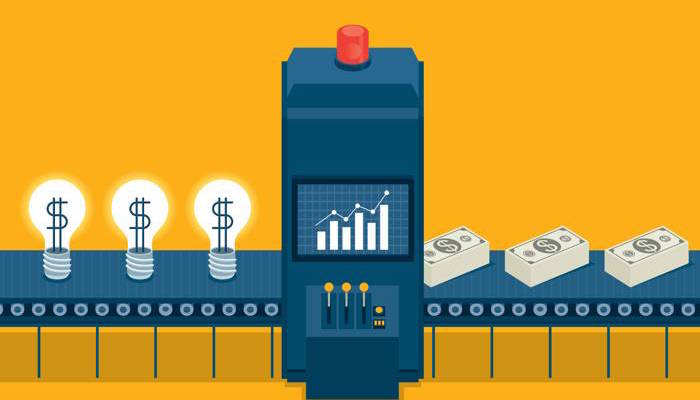 Measure performance at process level
Our experience demonstrates that a goal with a metric <strong">measuring performance at process level contributes more efficiently to the business overall performance, compared to a goal with a metric measured at individual or departmental level. Furthermore, if part of your process is delivered through your value chain, for instance outsourced, you should include this goal and its performance reporting in your partner contracts.
Prevent skidding with real time reporting and updates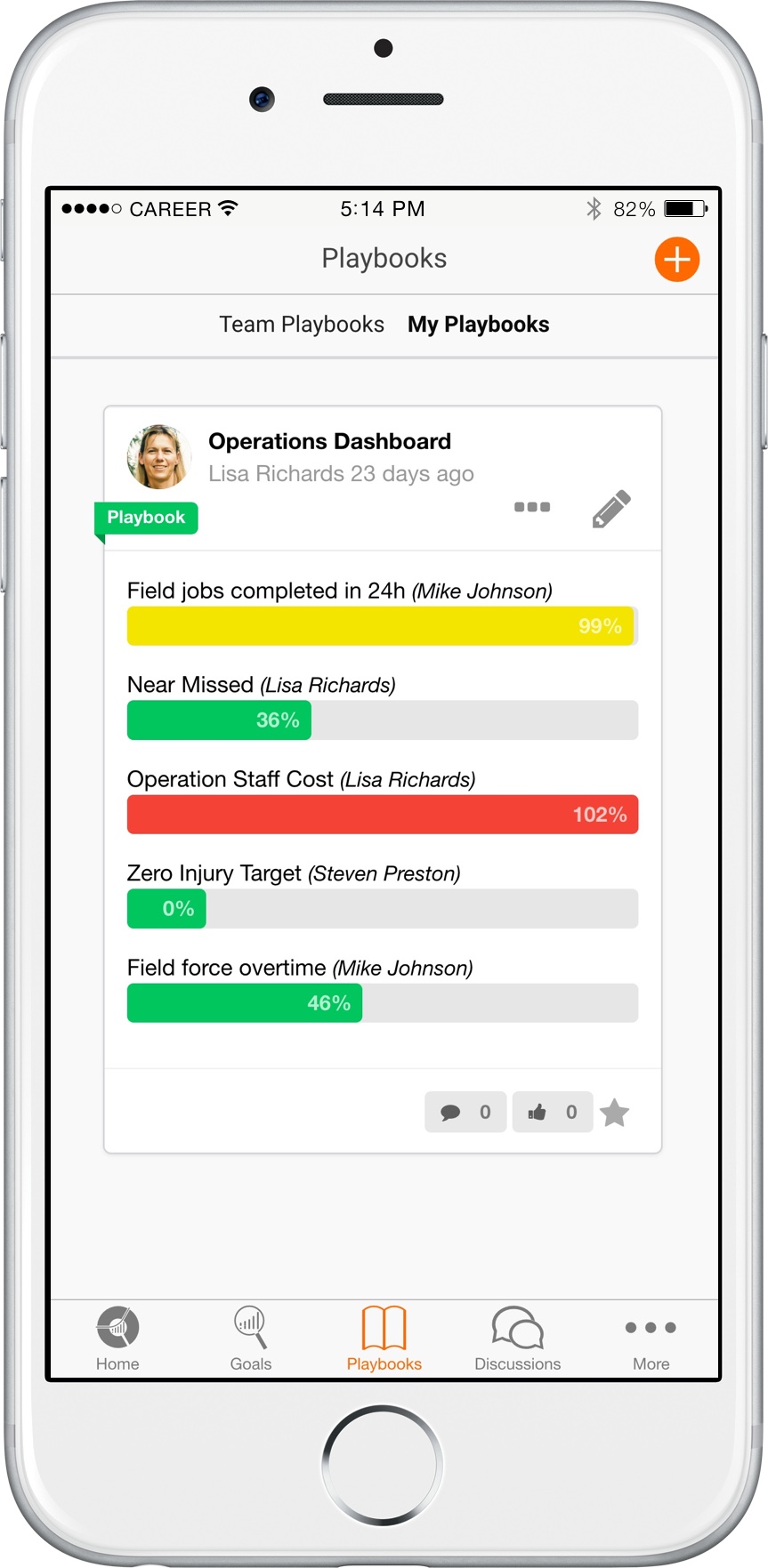 Real time communication through emails and messaging apps has a direct consequence on employees: they are more often exposed to managers'requests for immediate progress updates.
Traditional reporting systems were not designed for providing performance metrics in real time with qualitative information on variances. Reporting may happen simultaneously through multiple channels and, values may therefore be inconsistent, and valuable insight lost in personal mailboxes. Besides, those systems are providing historic values and rarely enable re-forecasting - so managers are driving the business looking 'in the rear mirror'.
It's time for managers to drive the business looking forward by improving your reporting process: replace emails and messaging apps with a digital solution to share metric updates and re-forecast in real time, with alerts and comments on progress all in one place.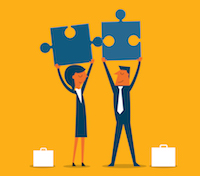 Crowdsourcing the delivery of your goals
By implementing those 3 initiatives, you should crowdsource the delivery of your goals, leveraging people's capacity to contribute towards your own goals. You can achieve this by using resources within your team, in other departments within the organisation or outside from value chain partners, and thus significantly improving your capability to get valuable information in real time, to prevent skidding and to drive the business forward.
---
As a conclusion of our 'lead by alignment - three steps' white paper, our final recommendation is to adopt a digital solution combining employee goals with performance metric visualisation in real time. This solution should help monitoring the contribution of teams and individuals to your business performance.
Based on our experience, we also recommend you carefully design and implement a change management programme, as leadership improvement initiatives convey significant challenges. Senior leaders should lead such transformation by example.
 
Bruno Vinel
Co-founder, Agily3 Ltd


Need help with business transformation to successfully re-align your organisation?
Agily | Business, customer experience and workplace transformation
—
Lead by Alignment